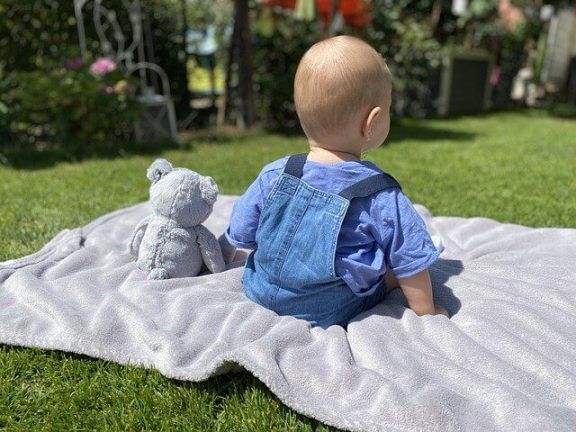 Your one-year-old babies need fun play tools that are just right for them; toys that would build their learning skills, motor skills as well as their social intelligence.
At this tender age, they are just building up their independence in the play room, thus these toys will need adult supervision.
This article is a detailed and straightforward compilation of the toys every one-year-old should have in their play room.
SKYFIELD Wooden Animal Puzzles for Toddlers
SKYFIELD Wooden Animal Puzzle for Toddlers is a puzzle-like play tool that is perfect for introducing your kid to the animal world. With this toy, your child will be able to recognize various animals in no time; including bear, butterfly, ladybug and bee.
The toy is durably made of child-safe wooden materials and attractively polished with brilliant non-toxic finishes. These attractive finishes will introduce your child to colours as well as build his/her ability to recognize and identify such colours.
SKYFIELD animal puzzles are great for developing your infant's concentration and hand-eye coordination. In addition, the pieces of the puzzle are quite easy to grip and they are too big to be swallowed by kids.
The puzzle comes with a storage bag and it is also nicely boxed in a solid customized gift box, which makes it an ideal present. It is a great play tool for bonding time with your kids plus you can have fun with the tool not only for indoor play but also with other kids during outdoor time.
Baby Balance Bike for Toddlers
Baby Balance Bike for Toddlers is a great confidence-building play tool for your 1-year-old kid. It improves balance as well as develops your child's motor skills.
This play tool is sturdily made of carbon steel and non-toxic plastic materials which is quite safe for your kid to handle but also requires adult's monitoring so as to prevent infants from swallowing/choking on the smaller parts of the toy.
The toy is pretty easy to assemble; takes up just 1-2 minutes, plus it comes with a picture instruction manual.
There are no pedals and the wheels are completely covered in order to avoid it moving over your baby's feet.
In addition, the wheels are soft so you don't need to worry about scratches coming on your floor.
The bike has a limited turning capacity of up to 135 degrees; this guarantees your baby's balance and prevents your baby from falling over. Baby Balance Bike for Toddlers can be used both indoors as well as outdoors.
Teytoy Baby Toy Zoo Series
Looking for an ideal play tool for bonding with your baby; Teytoy Baby Toy Zoo Series is the one for you. With its 26 pieces of soft, brightly coloured, alphabet cards, your baby is introduced into the world of letters, colours and animals.
The cards are durably made of soft polyester which is resistant to chewing.
They are also quite easy to clean, though it is preferable for them to be hand-washed so as to ensure their durability.
The front of the card displays a letter of the English alphabet while the back of the card displays adorable animal shapes that correspond with the letter of the alphabet displayed on the front of the card.
The toy comes with a cloth bag that's in the form of a handbag, making it easy for carriage and storing of all its accessories. The bag is also great for developing your kid's motor skills that is; as the cards are taken out and put back into the bag.
With this toy series, you get to have a fun time with your kid as well as monitor your child's interactive skills.
LeapFrog Shapes and Sharing Picnic Basket
LeapFrog Shapes and Sharing Picnic Basket is one of the best play tools that comes with light and sound features.
The picnic basket contains fifteen play pieces including a tablecloth, two colourful shape-sorting plates, two forks, two cups, two play sandwiches, two play watermelon slices, two play oranges and two play cookies.
In addition, the basket features a shape sorter that recognizes and says the shapes and colours of the food pieces when they are matched correctly to the sorter.
This picnic basket is just the right size to fit all the play pieces into it for easy storage and the basket requires batteries for the light and sound effect.
Your kid is sure to have a fun time with this play tool; with the fun music, the interactive sessions where your kid can make polite food requests, as well as the featured sound effects that is just right for developing your kid's knowledge about shapes and colours.
Note that the assistance of an adult is required when your kid is handling the toy as your kid's hand may get stuck in the shape sorter at the top of the basket.
Teytoy Infant Activity Book
Teytoy Activity Book is just perfect for introducing your kid to the vast world.
It features brightly coloured pictures and patterns of things around the world, with matching names and letters that will capture your kid's attention and promote a fun educational experience.
The book is durably made of soft waterproof materials that can withstand constant washes and rough handling. It also comes with a clasp for easily closing the book as well as a beaded handle on its side for easy carrying.
You are sure to have an awesome bonding time with your baby as you interact with them and read aloud to them. Teytoy infant activity book is great for developing your kid's communication skills, language skills, reading skills and imaginative skills.
The downside of this activity book is that some of the words in the book may seem a bit complex for your baby.
In addition, both the handle and the clasp of the book seem flimsy which may lead to them breaking easily. Asides those faults, you and your kid are sure to have a fun time using this book.