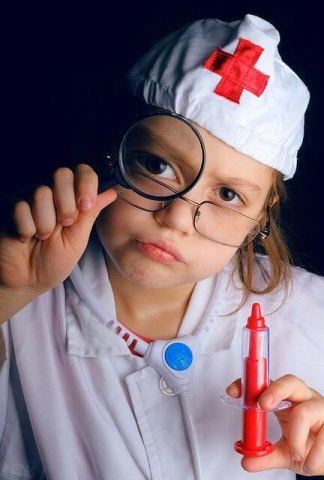 Doctor's kits are some of the best ways to open up the world of pretend play for your kid.
With or without dolls as patients, your child is sure to have a blast.
Toys based on medical equipment can help the little ones to work through their hospital fears.
If you're trying to pick out the right choice, you are not alone in this.
In this post, we'll be looking at the best doctor kits for older children.
Be sure not to get any of these for kids ages two and below. This is because they could swallow some of the small parts that come with these playsets.
Here are some of the best doctor sets you can buy for your little one.
Durable Kids Doctor Kit with Electronic Stethoscope
This set comes in a case that can be carried like a briefcase. This makes it portable and easy to clean up after. This way, parts won't get lost easily. The carrying case is transparent which is another thing we love.
In this package, you have a reflex testing hammer, bandages, a stethoscope, eyeglasses, surgical scissors, and telephone, a blood pressure monitor, a thermometer, an otoscope, and a syringe.
All items in the box are blue, green, and grey which makes it suitable for both boys and girls.
One of the main reasons users love this model is because it has realistic sounds attached. The cellphone has various exciting tones. The stethoscope gives a real-life heartbeat and coughing sound. You will need to use the included batteries.
Learning Resources Pretend & Play Doctor Kit for Kids
This playset comes with a case that has a place for everything. This makes it easy to keep each piece. Children will be able to know if a single one is missing while packing up.
This real looking medical playset features a stethoscope, a cellphone, forceps, 3 bandages, eyeglasses, a name tag, a scalpel, a thermometer, a pair of tweezers, a syringe, a blood pressure cuff, scissors, reflex hammer, bedpan, an ear scope, and a dental mirror.
The kit has a blue, yellow, and red theme. The case measures 14.5"L x 3.38"W x 12.5"H.
The stethoscope gives out realistic sounds when used. All that you need are batteries which are included.
The cellphone gives out realistic sounds. You will need batteries for this as well.
JOYIN Kids Pretend-n-Play Dentist Medical Toy Set
Joyin medical toyset is quite large. It measures 8 ½" L X 6" W X 6" H. The case is quite high which gives it a lunchbox look.
In the package, you will find a stethoscope, a blood pressure cuff, a pair of forceps, a bandage for wounds, a pair of eyeglasses, an ID tag, a scalpel, a pair of tweezers, a single syringe, a pair of surgical scissors, a reflex hammer, a bedpan, a single ear scope, an oral mirror, a hospital clipboard with paper and print, a couple of pill bottles, a pulse machine, a toothbrush, a flashlight, a thermometer, a otoscope, and a denture.
Apart from the number of accessories, this package also comes with a doctor's coat to make playtime even more realistic. The materials used in making this it are non-toxic and meet the US's requirements for safety.
Due to the many accessories, your child can decide to be a nurse, dentist, or a patient. Children of all ages will enjoy the various options that this kit offers to them. If you're looking for something for older kids, this is a great choice. And it is unisex.
Litti City Kit for Kids with Doc Coat Costume & Tools
Litti City Doctor kit is packed with accessories that will keep kids of all ages very interested and entertained.
In this package, your child will have access to six flexible bandaids. These bandaids come in a bandaid case with a Red Cross logo on the top.
There are other tools as well such as the doctor's glasses which are blue. Your child can use these to protect their eyes while they treat patients.
In addition, there is a name tag. To identify themselves, your little doctor can make use of this.
There is also a doctor's coat. The very realistic coat is sure to thrill your child. It is 25-inches long and has two buttons as well as two pockets.
Litti City playset has a storybook titled Litti City Doctor Bennie. The book is about a doctor and will have your child more interested. It'll give them an idea of how to handle patients. Little Bennie gets to go to work with his dad who is a real doctor. Due to this, he is able to convince his friends that the doctor's office is not scary.
The combination is something your child will enjoy.
LOYO Pretend Play Dentist Kit for Kids
This set is feature-packed. It has a nice unisex theme and quite a number of accessories. It has dental gears as well.
In this package, your child will find stethoscope, blood pressure cuff, drip and drip stand, two pill containers, two capsules, two teeth with a smiling face and a crying face, two spoons for syrups, a band-aid, a bedpan, a bar of toilet soap, a pair of tweezers, a surgical knife, an injection, a toothbrush, a spoon, a tube of toothpaste, a pair of surgical scissors, a reflex testing hammer, a torchlight, a thermometer, and other tools to treat the teeth.
These items make realistic sounds and give out light to make the whole experience delightful and memorable.
It features a very nice doctor coat that completes the look. This doctor kit is complete and features just the right amount of pieces to encourage your child's imagination. These accessories and tools come in a single box that can contain everything easily. This means that you can take it around very easily. It also makes cleaning up very easy.
Gifts2U Toy Doctor Kit
With more than enough medical tools to choose from, this kit makes it easy for your child to better understand the roles of doctors.
What makes this stand out is the inclusion of other special items such as a teeth set model, a toothbrush, and more dentist tools.
The stethoscope comes with an automated heartbeat, which makes the experience oh so real.
37 pieces of pretend play toys mean your child gets to have so many experiences while having fun.
Moreover, the toys are safe and easy to use, for children between the age of 3 and 6.
Fisher-Price Medical Kit
The color combination of this set will instantly attract any child's attention.
And much more than that, the set of doctor tools makes it easy for children to practice their doctor skills.
This helps create so much excitement in your children and make them eager to play with their friends and family.
Not only do they get to play with humans, but they get to try out their skills on stuffed animals. Doing this implies that as they are having fun, they are also learning.
The set includes a stethoscope, blood pressure cuff, thermometer, otoscope, syringe, and bandage, all put together to ensure your child has the best experience.
Melissa & Doug Doctor Play Set
Simple can be classy, and there is no better proof of this than the Melissa & Doug Medical Kit Set.
This playset is perfect for kids between the age of 3 and 6 years and is absolutely one of the best doctor kits around.
Containing 25 pieces of tools, there are more than enough tools for your kids to act like the doctors they believe they are.
The fact that there are reusable patient cards, an ID badge, and a checkup list makes the role-play more realistic.
This toy encourages a lot of imaginative and creative play and is just what your growing child needs.
Kidzlane Play Doctor Kit for Toddlers and Kids
The pieces in this toy kit are strong, durable, and safe to handle.
Coming in a medical bag are an otoscope, reflex hammer, dental mirror, syringe, blood pressure cuff, bandage, and stethoscope. With these 7 items, your child sure has the basic things he needs for his doctor play.
However, compared to others around, this set doesn't have so many tools.
So unless your child is the type that doesn't care about that, you might have to consider getting another one with more tools.
All in all, this encourages role-playing and adult participation. It is a perfect gift for your child, especially kids 3 years and above.
INNOCHEER Kids Play Doctor Toyset
Is your kid scared of going to the hospital?
Then this is just what he needs to overcome that fear. This is more than enough to help your child see that a visit to the doctor isn't as bad as it seems, as he gets to act like one.
It contains the basic medical tools, with 3 band-aids and 3 pill cases as additional tools that make the kit the perfect toy for your kids.
This kit comes with a doctor coat that fits children between the age of 3 and 8, so your child gets to use it for a while before outgrowing it. This uniform makes the role all the more realistic.
Also, the case the set comes in is simple and sturdy, with a latch that ensures your child's toys are well protected.
Source: