Plastic sets are the most common you will come across when looking to buy pretend kitchens for your kid.
They are also some of the cheapest in stores. This doesn't mean they are not of good quality.
Plastic play kitchens come with a lot of features that make them appealing to toddlers and older kids.
Below are some of the best plastic play kitchens for all categories of kids.
Temi Play Kitchen Playset with Pretend Food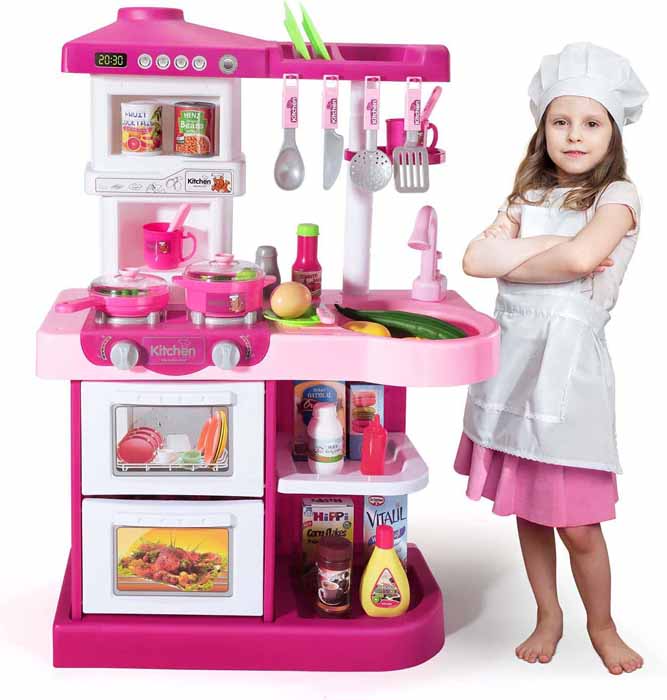 Temi Play Kitchen Playset is a multipurpose pretend kitchen set that features about 53 pieces of kitchen accessories. Included in the set are real-looking burners, sink sets with running water, shelves, oven, water pump, dishwasher, cooking utensils, and food accessories.
Its kitchen sink detects temperature while some parts of the kitchen as a whole is powered by electricity. This requires the use of 3AA batteries, which are not included in the set.
This plastic play kitchen is perfect for both indoors and outdoor play. Plus, it could also be used as gifts during holidays and birthdays.
The brand Temi, produces toys with the main aim of fostering interaction and creativity among kids, so with this plastic play kitchen, your kid gets the full experience of being a creative 'home chef'.
Fisher-Price Laugh & Learn Learning Kitchen
A good example of a quality interactive plastic play kitchen is this product. Fisher-Price Laugh & Learn Learning Kitchen is expertly constructed to fit 4 different modes in one playset.
The modes include learning mode, bilingual mode, musical mode, and imagination mode. All these will keep your kid occupied for a while, as they discover new fun experiences.
There are 5 different-shaped accessories in the set, including the standby refrigerator. Also, included in the refrigerator are tasty food accessories.
The set can be folded easily for storage, without breaking or bending in any parts.
With the numerous activities provided by this Fisher-Price product, your kids will be inspired to improve their role-playing skills and develop their interactive play skills.
Step2 Lifestyle Dream Kitchen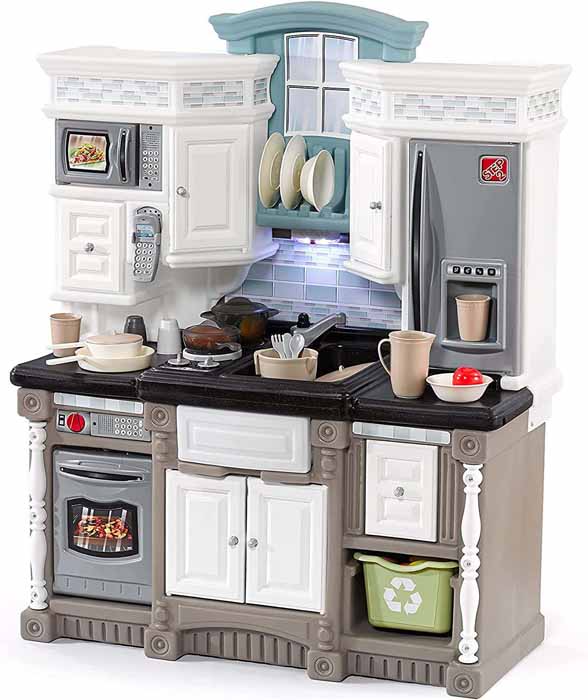 The dream kitchen of every kid is this beauty. Step2 does not hold anything back with this Lifestyle Dream Kitchen.
From its authentic stainless steel refrigerator, microwave, stovetop, and oven, to its 37 pieces of cooking accessories, your kids' fun in the kitchen knows no bounds.
Unlike most play kitchens, this one has realistic-looking water and ice dispenser, as well as a well-compartmentalized cooking space.
Not only can this plastic play kitchen be used as a home kitchenette, but it could also be used as a mini restaurant or even a cooking show's kitchen.
After having fun with the play accessories, they can be stored away in the cabinets' drawers. Note that cleaning the set requires the use of mildly soapy water.
Step2 Fun with Friends Kitchen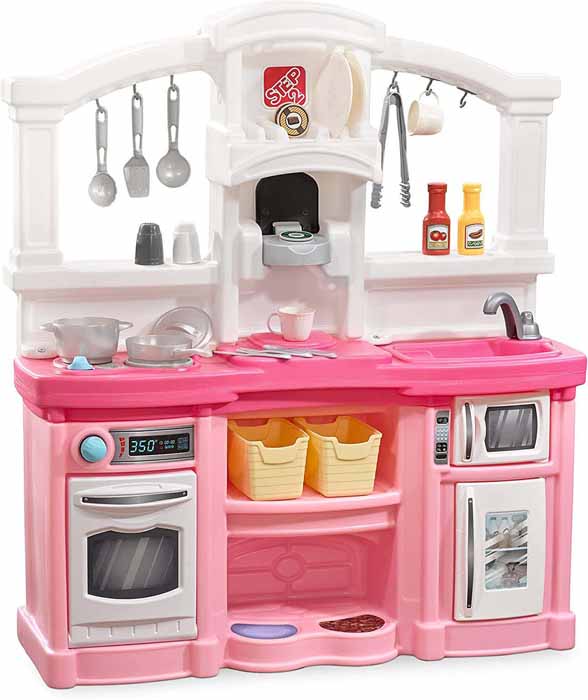 Have you come across a plastic play kitchen with a coffee maker?
Probably or probably not. Well, Step2 Fun with Friends Kitchen has a lifelike single-serve coffee maker with included coffee pods and a travel mug, for just that much-needed early morning coffee.
A fun inclusion in this set is the electric stove burner that actually simmers and sputters when the specially made pan and pot is placed on it, sounding so real. This requires 2AA batteries which do not come with the set.
Space is not a problem in this kitchen, as there is more than enough storage room to store all accessories. So, go get your kid's one of these in either color pink, tan or brown/blue.
Little Tikes Home Grown Kitchen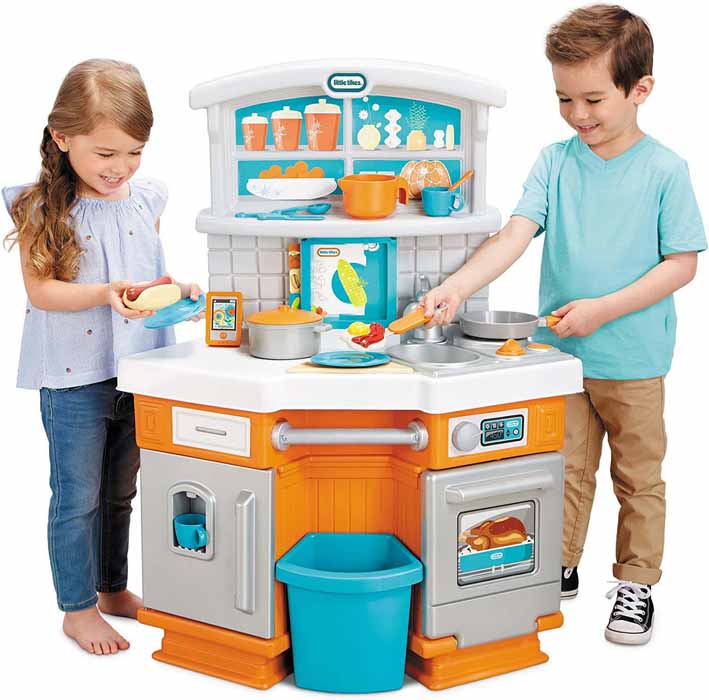 Little Tikes Home Grown Kitchen is a multicolor plastic play kitchen with all the necessary add-ons every kid needs in play.
With its skillfully made structure, it can fit well into any corner without taking up much space. This also makes it easy to clean; even your kids can manage that on their own, plus the dishes can be cleaned in the play sink.
There are over 20 featured kitchen pieces that are easy to reach, plus recipe cards are also included, to make the experience more creative.
The features of the kitchen are totally realistic with the actual cooking and water boiling sounds. Your kid also gets to open and close the refrigerator and oven, just like in a real kitchen.
Step2 Best Chefs Kitchen Playset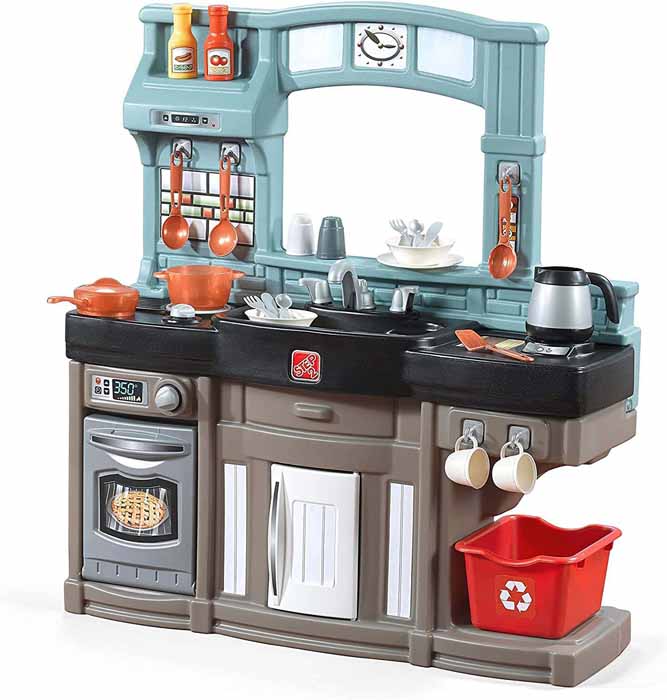 Realistic-looking appliances are not just what makes the Step2 Best Chefs Kitchen Playset a must have, but also, the fun lights and sounds are quite appealing.
Just like every other Step2 product, the sounds and lights are activated when the pots come in contact with the electric stovetop.
This plastic play kitchen is expertly created with an open design, which includes a window that allows kids to pass through, when engaging in multiple kids play.
Cooking, baking, preparing coffee, and other stimulating kitchen activities, can all be carried out with this set and its multiple accessories.
All these in one box, to improve every kid's creativity, mental skills, interactive play, motor skills, and communication skills.
Little Tikes Super Chef Kitchen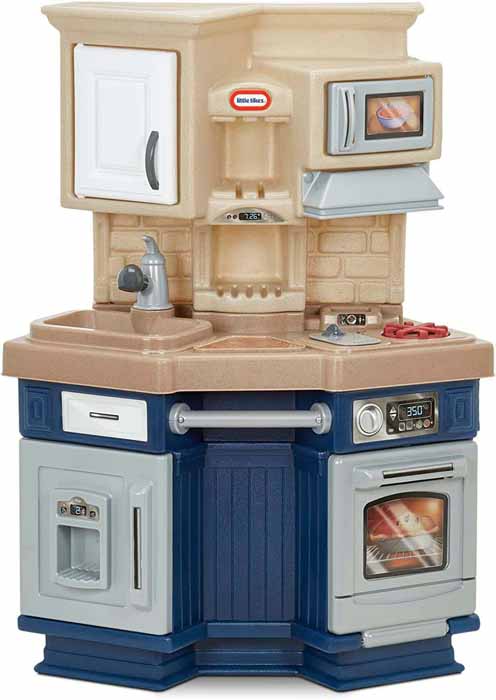 An exciting model of an adult kitchen is this Little Tikes product. The Super Chef Kitchen by Little Tikes has a modern appearance, with similar modern looking kitchen appliances.
With the combination of a primary color and a neutral color, that is, blue and cream, this plastic play kitchen complements any play room.
All accessories included are a coffee pot, phone, frying pan, two plates, two cups, two forks, two knives, two spoons, a refrigerator, oven, microwave, and towel rail.
There are lots of electric cooking sounds in this product, including sounds from the clicker knob above the oven door and the burner.
Not only can it fit into any space with its compact design, but all accessories can fit into its storage units as well, thereby making the play room more orderly.
Step2 Contemporary Chef Kitchen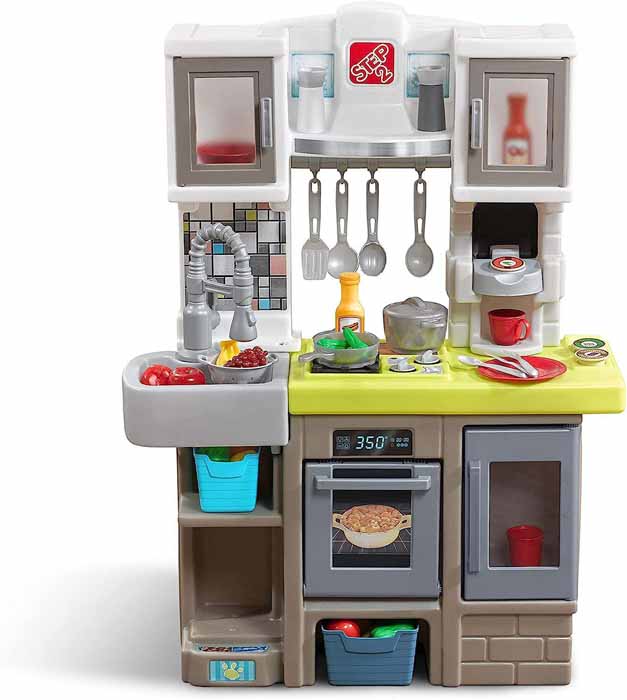 Step2 Contemporary Chef Kitchen consists of an electric stovetop burner, a coffee maker, a feeding corner for pretend pets, and realistic appliances with functional doors.
The burner generates thrilling lights and sounds when active, thereby requiring 2AA batteries that are not part of the play tool.
The feeding corner provides a spot for your kid's stuffed animal to hang out as your kid engages in kitchen activities, just like in an adult's life.
There are even large storage drawers and bins, that keeps the playset tidy after every play.
To enhance the experience, you can add the Step2 table and chair set which comes in different types, but is still able to convert the kitchen into a mini restaurant.
Step2 Cozy Play Kitchen for Toddlers
The ideal plastic play kitchen for imaginative pretend play fun is Step2 Cozy Play Kitchen for Toddlers.
Although, there are no pretend food accessories in this set, but your kid is sure to have the best fun with the 21 featured pieces.
There is a built-in sink with a faux tap, which when used, develops your kid's ability to be independent, by practicing cleanliness on their own.
Furthermore, the refrigerator, oven, and cabinets, all have working doors, that give the kitchen a realistic look. The burner has real-looking knobs as well. Plus, there is also the coffee maker, to brew the best coffee.
Little Tikes Bake 'N' Grow Kitchen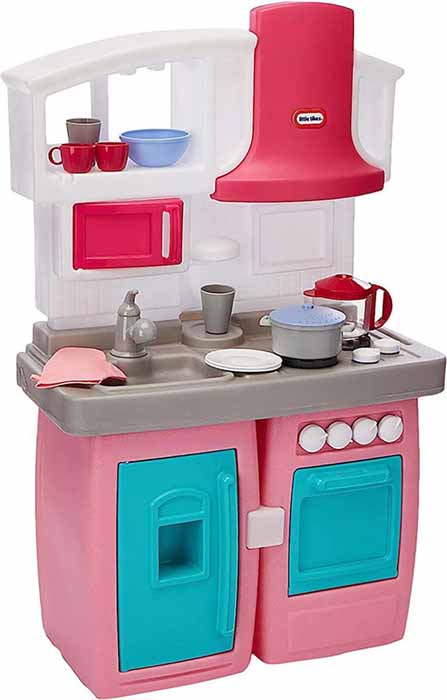 Little Tikes Bake 'N' Grow Kitchen has a unique structure with a 2-step adjustable design, which means the height of the kitchen can be adjusted to fit the height of your kid.
As your kids grow from toddlers to preschoolers, you don't have to worry about them outgrowing this play tool.
Unlike the majority of the plastic play kitchens on this list, this one has no electronic feature. The burner, microwave, oven, and refrigerator are all non-electronic but are still pretty fun to use.
With its 25 or more accessories, including play food accessories, the kitchen experience becomes a fantasy come true.
Super cute and very easy to assemble with no batteries needed makes this Little Tikes kitchen recommendable to every parent who wants a kitchen for their kids at an early stage.