Are you planning to buy a toy kitchen for your kid but thinking it might not be appropriate because he is older?
Pretend cooking sets will work well for any age category. And no matter the age of your child, play kitchen can have an important role in their growing up.
It's surprising that many parents still think they are only meant for toddlers.
These toys offer boatloads of benefits for older children too. It's a tool to help with building their imaginations and preparing for tasks they will soon be facing as adults.
As parents, we all want our kids to be positively engaged whether in school or at home.
Cooking playsets can help in this regard not only by engaging our kids but by allowing them to develop their creativity. This is what make-believe toys do.
They also offer an avenue for parents to instruct their children.
The following sets are the best play kitchen for older kids in 2022.
KidKraft Large Play Kitchen with Light and Sound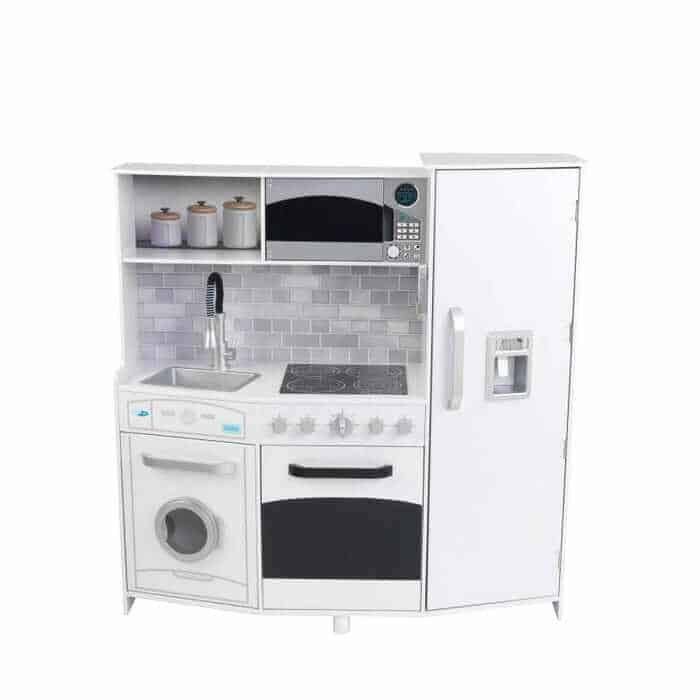 Looking for the perfect kitchen for a 6 to 7-year-old? And one that can still serve an 11-year-old? Don't go far, the Kidkraft Large Set with Light and Sound feature is the way to go.
This toy has everything your child needs.
An older kids' kitchen needs to be sturdy, tall and realistic-looking. The Large Kitchen with Light and Sound has all these are many more.
The wooden set comes in two attractive colors – a calming white and a lovely espresso. It doesn't look out of place in any room setting. You may be a little bit jealous, why would a pretend plaything be this beautiful?
The pretend appliances are top-notch. They are so realistic-looking that there is no way your kid's creativity and imaginative play will not get a boost.
One bane of children's kitchens is a lack of adequate storage space to store the accessories that are needed along with the toyset. But the KidKraft Large set with light and sound took care of that issue well. It has enough storage all over even if you're buying extra accessories. All the play appliances can be used as a storage space for your kid.
It is called Large Kitchen for a reason. Multiple children can have rewarding make-believe time in this set.
Cons
It can take forever to be put together. But you can shorten that time by following the attached instruction to the letter.
No products found.
>>> Want more pretend toys? Check out these Doctor Kits <<<
Kidkraft Farm to Table Kitchen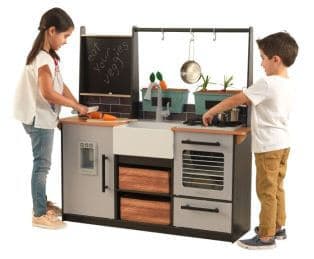 Kids love the 'homely' feel of the Farm to Table playset.
This high-quality wooden kitchen will surely inspire your kids to grow their own foods with the included real-looking planted carrot and purple onion. These realistic play veggies can be 'harvested' and 'chopped' with a wooden knife on the cutting board.
The playset comes with so many features to make it your older child's number one toy.
First is the light and sound feature – the crunching of the veggies while being chopped, the lighting up of the cooktop with boiling sounds, the running sound of a water faucet that also lights up.
Add to that an ice maker that dispenses 3 realistic ice cubes, and the 3 cut-able carrots and beets.
The Farm to Table Set comes with metal utensils – pot, pan and spatula – and metal hooks to store them. The window design allows multiple kids to play at once and can be used to create a restaurant scenario
If you're buying this just make sure you go for one with EZ Kraft Assembly to make setting up a breeze.
Con
We can't really think of any. There are many reasons it's one of the best on this list. Please note that the Large Play Set with Light and Sound has a taller counter height.
No products found.
Melissa and Doug Wooden Chef Kitchen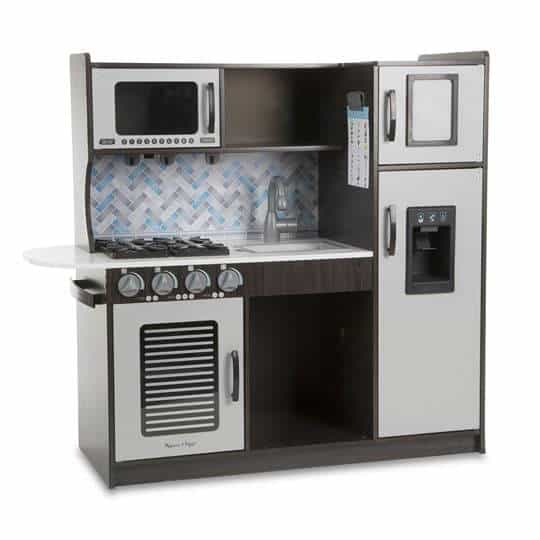 Melissa and Doug don't release lots of children's kitchens. But when they do, you can expect a marvel.
The Wooden Chef is a wonder to behold. Since its release in late 2018, it's been generating rave reviews among parents. Not only for older kids, but this play kitchen is also perfect for 2-year-olds too. That is a plus if you have different ages of kids at home.
Big toys are a mom's nightmare when it comes to cleaning. Not the Wooden Chef. It is built in such a way to make cleaning easier.
Do you remember all those luxurious kitchens that always captivate you in those home magazines? This is your kid's version of them.
This pressed-wood playset stands out in any room you decide to place it. The Wooden Chef is available in three child-friendly colors – charcoal, cloud, and pink.
One way the Wooden Chef thrills older kids is through its interactive design. The microwave plate rotates just like the real one. The ice cube machine dispenses realistic ice cubes. And the sink has a moving faucet and handle.
Well-illustrated detailed instructions make this easier to assemble compared to other big playsets.
Cons
No light and sound features. These features can improve the roleplay value of children's toys.
No products found.
KidKraft Uptown Kitchen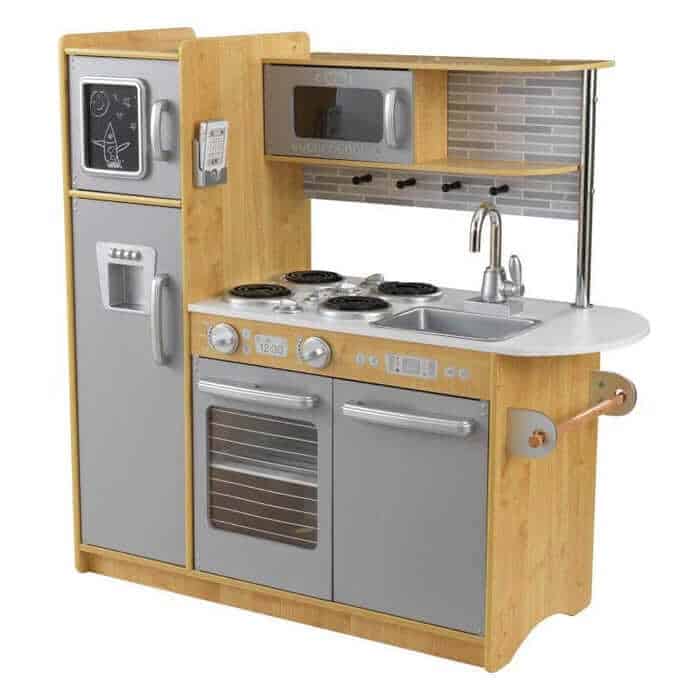 One advantage the Uptown Kitchen has over the other toy cooking sets on this list is that it is built to withstand any knocks and kicks from the little ones.
This is an important advantage if you're buying any toy for an older child.
The Uptown cooking playset is built to last through the different generations of kids.
This is a toddler's cookhouse that an older child can really have fun with. It is a wooden set with some pieces of plastic here and there.
The Uptown Natural Kitchen is a sturdy playset that doesn't tip over easily, a feature you should look out for when buying cooking playsets for very active children. (Safety tip: it is advisable to always fix big and heavy toys like these to the ground or the wall).
Generally, the Uptown Set can withstand anything a 5-year-old can throw its way.
The excellent role-play features and toy gadgets it comes with ensure that it is a viable tool for school-age kids.
One thing you can't take away from this set is the realistic design. And if you prefer a more 'homely' color, check out the KidKraft Uptown Espresso Kitchen.
No products found.
KidKraft Deluxe Big & Bright Kitchen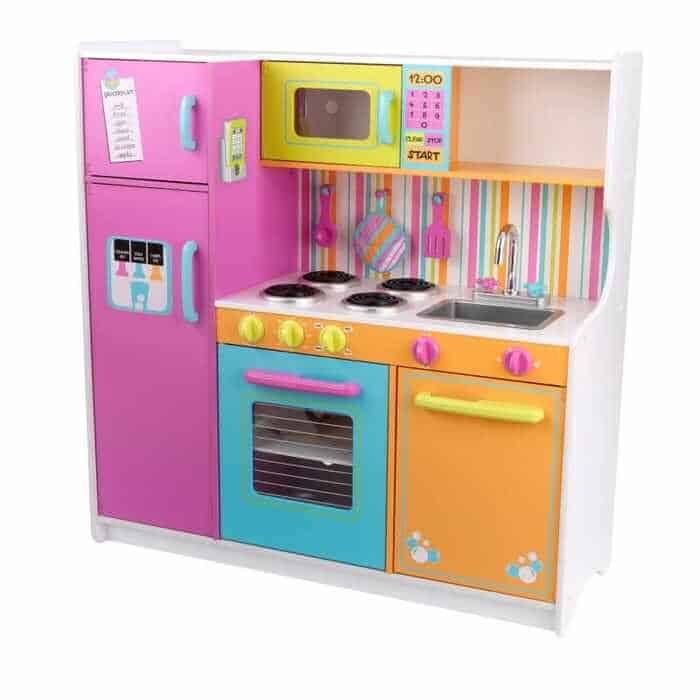 The name says it all.
Finding a perfect cookhouse for tall or older kids is not an easy task if you have ever attempted it. Most children's kitchens you will constantly come across are made for 2-4 years olds.
Kidkraft's bold attempt to fix that is the KidKraft Deluxe Big & Bright Toyset. And that is more than welcome development.
It is a set that your 5-year-old plus will get wholesome fun from. It comes with enough accessories and appliances to fulfill your child's imaginative and creative needs.
The manufacturer has taken care of all the little details. A wall anchor ensures you don't need to worry about your kid tipping this over. Adequate storage ensures the accessories don't litter the floor. And the good number of pretend gadgets ensure your child gets maximum role-playing benefits.
And don't let the pink color fool you into thinking it's a little girl's kitchen. Your boy will enjoy playing with it as well.
No products found.
Teamson Kids Little Chef Florence Classic Set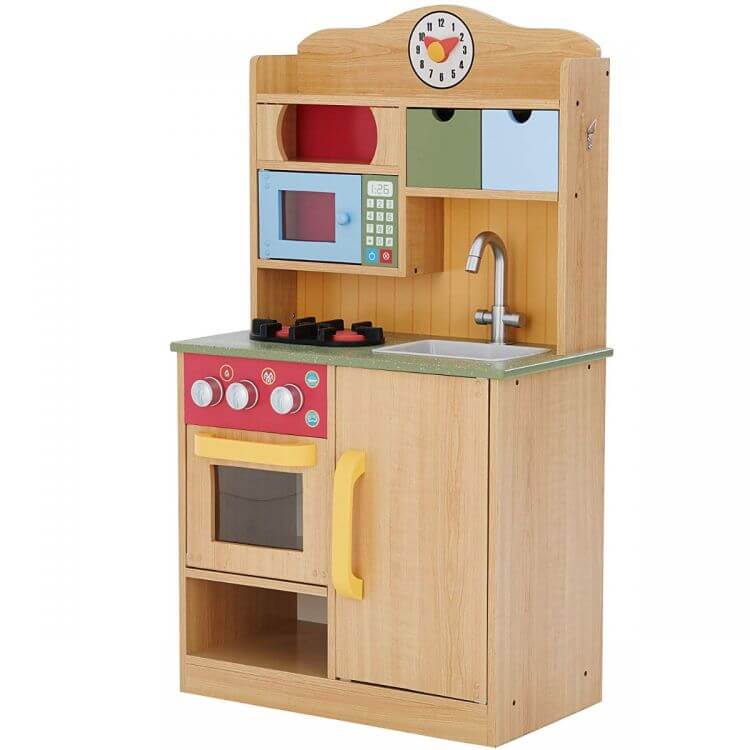 You need a big playset for a bigger kid. But many times space won't allow you to get a big one. So you need to look for a compact playset that still comes with full features.
One of such kids' kitchens is the Little Chef Florence Classic set. With a retro look that won't be out of place anywhere in the house, the Florence Classic toyset still comes with enough child-friendly features.
No products found.
KidKraft Ultimate Corner Kitchen Set
KidKraft is world-famous for making great toys and this kitchen playset is up there as one of their best products. It is one of the most impressive play kitchens because it is incredibly detailed and very realistic.
If chefs want to make a toy set for kids, this is it. It has everything your kid needs in a modern kitchen. All the doors on this set open. The burner makes a realistic noise when cooking and the oven, microwave, and ice makers light up like the real thing.
Pros
It is not too big or small, just the perfect size for big kids. I think it is the most realistic kitchen playset I have ever seen and it is easy to assemble.
Cons
As fun as this is to play with, you have to purchase other accessories separately as they are not included in the set. Also, the set needs more than one person to assemble because of its many parts.
No products found.
Step2 Grand Walk-in Wooden Kitchen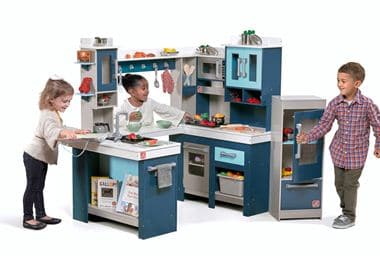 This is another great kitchen playset. It is definitely one of the biggest toy kitchens anywhere. This kitchen set is designed for bigger spaces. My favorite feature is how well made and sturdy it is as a tall play kitchen compared to other tall play kitchens.
While there is always an age limit for every playset, this is a play kitchen for 10 years old and ages below it. The shape and size mean it is quite comfortable for bigger kids.
Pros
I love the storage space that comes with it. Your kid can store anything he wants inside. Also, the build quality is good and makes for a sturdy product.
Con
As the name implies it is a very large playset and is only fit for large spaces. Parents with limited space would do well to consider playsets more suitable for small spaces.
No products found.
CUTE STONE Kitchen Set
This is a good play kitchen for kids to immerse themselves in the joy of cooking. It's a really cute set and would be your kid's favorite toy, however, it is not the biggest toy kitchen.
Included in the set are a lot of play accessories for kids to enjoy the cooking experience. There are tableware and other small utensils that will make it easier for parents to teach their kids good kitchen habits and how to clean up after use.
Cooking is an important life skill and children should learn them. It is great as a big play kitchen for up to 5 years old.
Pros
Its small size is a good advantage for parents who need kitchen playsets for small spaces. It even has a drain rack and a water faucet
Cons
It is very small. Also, unfortunately, while it is great for small spaces the size of this play kitchen makes it unsuitable for more than one kid to play with.
No products found.
Costzon Kids Kitchen Playset
When you think of a playset to keep your kid occupied for hours, this kitchen playset feels almost too good to be true.
It is great for hands-on interactive play. Included in the playset are lots of accessories for your child to create wonderful food and imaginative stories. You get a sink, stovetop, kettle, dish towel, and even a ladle. There are wooden pots as well. It is one of the best play kitchens for 5 year olds anywhere.
The design is fantastic. Not just that, it is really solid when assembled because it is made from a mix of MDF and pine wood. With a bright pink color, a durable paint finish, and no unpleasant odors, it is perfectly safe for kids.
Pros
The build and design make it a good choice for younger kids. We also love the sturdy quality of the materials and the storage space for accessories.
Cons
This set is one of the shorter play kitchens. It comes in a bright pink color which might not be your kid's favorite color.
No products found.
Best Choice Pretend Play Kitchen Set
This is a fun pretend kitchen set for kids. The set comes with a freezer, dishwasher, microwave, two pots, and three kitchen utensils. The best feature has to be the chalkboard. Your kid can write all his creative ideas for cooking and recipes just like you'd do in a real kitchen.
This pretend set is a recommended play kitchen for big kids. If you have kids 4 and above, this playset is ideal for them.
Pros
It has many accessories and features for kids to play with friends. The playset is of a high quality neither is it too large and can fit into tight spaces.
Cons
Assembling this kitchen set will take about two or three hours so be prepared for it. There are lots of screws included in the pack. While they make the playset sturdy they increase the assemble time.
No products found.
Considerations when buying toy kitchens for older children
A play kitchen that will serve an older child must have certain features that will ensure the child derives maximum benefits.
Height
One feature is the height. This is very important. A cooking toy for an older kid must be a little bit taller than the common ones you will first come across while looking…
For a child to effectively play mum and dad or whatever, the playset must be in a height that will allow the boy or the girl to access the countertop easily. The countertop of a toddlers' cookhouse is where the majority of his play will start.
Many cooking playsets failed in this area since a tall child will need to bend before he can use them.
Large Size
A toyset for an older kid must also be big. One mistake that happens all the time with this kind of toy is, a mom will see a beautiful set online and order it only to find out after setting it up that it is too small. What you should take away from this is that, when ordering play cooking sets, you need to get the actual dimensions after set-up – the height, the length, and the width. This will allow you to quickly determine if it is at a good height for your child.
A toy kitchen designed for a two-year-old will not serve a seven-year-old. The 7-year-old can still use it but will not be able to use the features effectively.
But when you get a set that correlates with the child's height then he will have lots of fun. Size is very important when buying such toy sets for older kids.
If you're buying for a 4-year-old, then consider going for extra tall play kitchens. This is also important.
Space
Another thing you should keep in mind after taking into consideration factors like height and size is space. And this is in two ways.
First, consider the holding space, that is, wherever you are placing the kitchen. Stand-alone play cooking sets, in any room standard, are big toys. So make sure you have enough space in the room you are planning to place it. And having enough space is not enough, leave allowance of space for your child to move around the playset without any hindrance.
Kitchen toysets come with a lot of appliances and for kids to use some of these, they need enough leg space to move around the structure.
This is one consideration many parents overlook. If there's no space around the set, kids will still play. But adequate space all around the structure allows the child to get maximum benefit.
Another advantage emanates if you usually have your little ones' friends over at the home occasionally. A big child's kitchen with good leg space around it is a good play resource for multiple kids.
Plus many cooking sets are made in such a way to be accessible to the child through the front, back, and sides.
Adequate accessories
One other consideration to talk about before rounding up this post is the number of pretend play appliances that come with a playset.
When buying kitchens for an older kid, a good number of pretend appliances and other features must be present.
For a 2 to 3-year-old toddler, those basic sets with three units are okay. Such age groups don't need more than these since their knowledge about the actual appliances is limited.
A seven-year-old child already has an idea of what for example a microwave does. He already knows what all or most of the basic cooking appliances are used for. So having a replica of these in his toys is a sure way to get him engaged in the toy.
Many pretend cooking sets will even come with non-cooking home gadgets that, traditionally, are not associated with the kitchen e.g. the washing machine. These will also add to the role-playing value of the set.
FAQ
Is 7 too old for a play kitchen?
No. It's a common occurrence in homes to see 7-year-olds becoming involved with 2-year-olds toddlers' play kitchens.
And there are kitchen playsets specifically designed for kids at such age. A play kitchen for a 7-year-old will feature a high counter, more pretend appliances, and a bigger set for maximum roleplay.
As for parents that believe that kids at that age should start getting used to the real thing, play kitchens can be used as a medium of transitioning kids to the adult kitchen.
Conclusion
It can be difficult to find a perfect kitchen for older kids.
Most child's height stand-alone cooking sets are designed for ages two to three. Older kids can sometimes use these but they are not sufficient for them to role-play effectively.
The kitchens listed above are some of the best sets for ages four to eleven. Check out their features and select the perfect one for your kid.