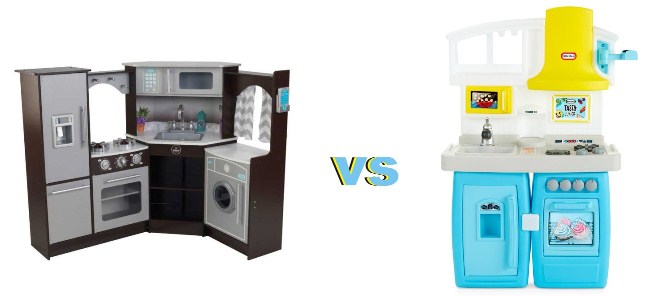 Play kitchens are becoming much more popular. There are several toys that get children interested in life tasks which they are supposed to learn. Play kitchens are one of them. Cooking is something that every adult irrespective of their gender should have at least basic knowledge of.
Play kitchens come in two main variants. There is the plastic type and the wooden one. Parents often wonder which to buy. In this post, we'll be pitting the two against each other to help you make the best decision for your child.
Realistic Look
Resemblance to the real thing is something you should consider especially if you're looking for a play kitchen that an older child can have fun with. If you want something that looks realistic, then you should go for a wooden set. They look more like real kitchens and would excite older children much more. Here are some nice real-looking wooden play kitchens.
Cleaning
Your child's play kitchen will get dirty. Your child will definitely take some real foodstuff out of your kitchen [with or without your permission] and things will get messy. That is where the real joy lies and it will be fun to mimic mummy and daddy's moves. However, after the cooking comes the cleanup. It can be a pain to clean up wooden kitchens. Plastic kitchens are much easier. With a simple rag, you can wipe them off. Check out this list of the best plastic play kitchens.


Durability
When buying play kitchens, do not consider buying a low-quality one, whether plastic or wooden. Always go for the high-quality ones. When it comes to durability, there is always a choice to make. Are you looking for something that you do not expect to last for years? Or do you want something that you can hand down? If you are looking for something more durable, you should go for a wooden kitchen.
Portability
For one reason or the other, you may need to move the wooden kitchen. Some people have plans to move more than others do. If you do not see yourself moving any time soon, a wooden kitchen would suit you but if you know that you will have to move several times, go for a plastic set as they are more portable.
Price
Prices vary. This is true of products whether or not they have the same branding, size, or features. The price will almost always differ. On average, however, plastic play kitchens are less expensive than wooden ones. If you are on a budget, plastic kitchens will serve you better.
Injury
Wooden play kitchens often have splinters on them. When they run their hands on it, they could get injured. Plastic play kitchens don't have this problem.
General Appearance
Generally, wooden kitchens have a better appearance. They look more mature and blend in with the furniture better. They also manage to look beautifully real and can even give your house a lived-in and cozy look.


Wooden Play Kitchens or Plastic Play Kitchens
The choice actually depends on you and your child.
If your child is a bit older and you have money and are willing to spend on something that will last and can be passed down, the wooden playset is a great choice.
If you're on a somewhat budget, you'll find that there are great options that are also durable which you can purchase