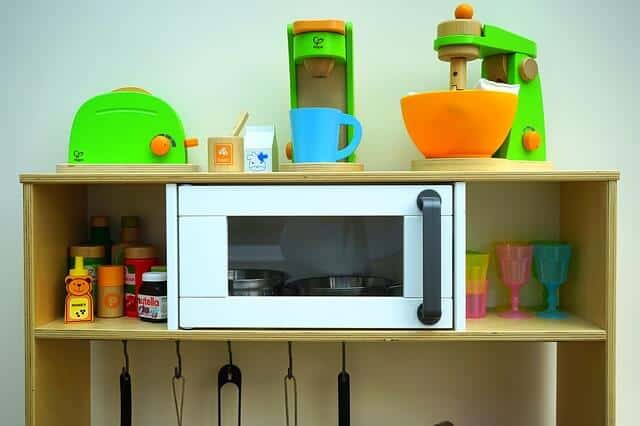 While many parents understand the huge benefits play kitchens offer kids, what they are not sure of is whether it is perfect for their own children.
It is a good thing to know the appropriateness of a toy set before buying for your child. Nobody wants to end up with a toy that the child never uses, or that may pose a health risk.
Plus the fact that play kitchens are big toys. You don't buy such toys without making sure it will be appropriate for the child you're buying it for.
To determine the appropriateness of these for a child, it is better to put certain things into consideration. Especially when there is no one-size-fits-all solution that states the age of a child that can use these playsets.
Why do kids need toy kitchens?
First, let's check why a cooking toyset is important for a toddler. This will give us an insight into what age it is perfect for.
They allow kids to role-play. There are many role-playing toys.
Play kitchens are unique in that they allow kids to imitate something they see mom or dad do every day. That is, they allow children to be introduced directly to a basic life skill.
When you compare these kitchens with, for example, doctor kits, you will see where I'm going with this.
So, what does it do for the little ones?
It allows them to use their imagination. Kids create their own recipes and dishes in their kitchens. This allows boys and girls to create real-life scenarios which in turn prepare them for real-life situations.
Pretend kitchens are learning and educational tools. Toddlers can sharpen their problem-solving abilities through regular interaction with these toys.
It can help with basic mathematical concepts like adding subtracting and multiplying. It can also help teach color identification since play kitchens and their accessories come in several colors.
Let's quickly state one more benefits before going on to determine the perfect kid's age for these playsets.
Kitchen toys help the little ones in the development of language and social skills. Child-size kitchens facilitate communication between multiple kids. This will help them develop the necessary social skills and expand their limited vocabulary.
With all these benefits available to a child using a toy kitchen, which parents wouldn't want their kids to have one?
But hear this…
Kitchen playsets are not for 1-year-olds
Yeah, you heard that right. Toy kitchens are not meant for a 1-year-old. Or below that age.
With all those benefits, why exclude a child? You asked. You may have even seen parents buying for their kids at that age.
You see, when it comes to kids and toys, parents should be extra careful.
In America alone, toys account for a high percentage of injuries happening to minors. And trust me, a considerable number of that figure leads to death.
Toy kitchen sets (or their accessories) may contain small parts that a toddler can choke on. For example, pretend foods resemble real foods and kids generally put these in their mouths.
Kitchen toy sets, whatever the materials they are made of, may also contain unsafe substances. As recently discovered, lots of plastic toys contain BPA and phthalates which have been deemed by health authorities as not safe for humans. These are not the only culprit here, there are many unsafe chemicals present in the PVC plastic used in producing baby products and general home items.
The risk may be lower for adult, but for toddlers who put these in their mouth or chew on them, it is higher.
It is not even about plastic toys alone, wooden play kitchens and accessories are usually coated or painted on. Many of these paints contain toxic chemicals too. And lots of wooden toys are built with treated wood or fabricated wood that consists of other elements like plastic or metal.
Here is another reason we don't encourage these sets for 1 year old and below:
At that age, many children are just learning to walk. Those that already do are toddling around the home. Kitchen sets are big toys, by any toddler's standard. There is a sure risk that they can fall on the kids. And with the weight of some of these playsets, that is a real danger.
Is age 2 the sweet spot for toy kitchens?
Something like that. Age two is also about the time that real make-believe play starts.
But we should be talking about the range, not a particular age. Pretend kitchens are perfect for a wide range of children's ages. Some are designed for older kids, some are meant for 3+ kids. Little boys will find some cooking sets appealing while girls will take to some. 
Related: Best Play Kitchens for 2 Year Olds
The Manufacturer's Recommendation to the rescue
The right answer to the main question of this surely lies with the manufacturer. Each toy producer, at least in the US, is mandated to list information on the required age for any product.
Going through several online stores, you will notice that the most common minimum recommended age for a play kitchen is 3, followed by age 2.
When do kids outgrow play kitchens?
Though a feature-filled play kitchen is an exciting toy for any kid, they can outgrow it at any time.
One reason is that kids' interests can change rapidly. They become attracted to new play gadgets easily.
Though, many a times, toddlers will still come back to a toy they have abandoned.
Generally, when they reach a certain age, kids may show a permanent lack of interest in certain toys. This age varies. Likewise, the object of disinterest.
In the case of play kitchens, one thing that may bring about this lack of interest is age or size.
When a child becomes bigger than a playset used as a toddler, this may lead to loss of interest in that toy, especially when there are toys that pique their interests the more.
Wrapping up!
Here we are. We can safely assume that the perfect age for a child's kitchen starts from around 2 to 3-year-olds. And ends around age 10-12, though many parents will claim 11 years and above should be using the real kitchen.
We would like to add that, if your 1-year-old shows interest in his sister's play kitchen, let him use it. But under your strict supervision, due to the risks outlined above.